Alyona Wrong Yoga Teacher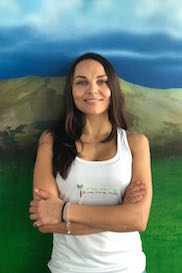 Alyona Wrong
My passion in life is to grow daily with my practice and to inspire people around me. With my own example, I wish to bring harmony to there life, to give a chance to find best of them. I think that yoga is the best for to achieve a balance in life.
Jivamukti yoga is a modern yoga direction, born and formed in America. The founders of Jivamukti - the wife of David Life and Sharon Gannon - spent much time in India in the late 1970s and learned the practice of yoga from the great Guru Swami Sivananda and Swami Nirmalananda. Back in America, Sharon and David created a unique method of transferring the knowledge of this practice - Jivamukti yoga - which includes five principles: ahimsa (nonviolence), bhakti (veneration, respect), meditation, nada (sound), sastra (study of yogic texts). The method is based on the principle of Vinyasa krama, i.e. conscious connection of breathing and movement of the body.
By embodying the basic principles of Jivamukti yoga, in her classes, Alyona inspires those who are engaged in comprehending yoga not only as a physical aspect also as a spiritual practice, transforming the traditional methods of yoga into modern life and encouraging self-knowledge. Alyona has a kriya yoga initiation from Guru Shri Shailendra Sharma (India).
Big thank you to Sharon and David life for the great adventure, to the Jivamukti team, To Yogeswari for her love and passion for life, and to NYM yoga (Jivamukti Yoga Moscow) for giving the possibility for to grow as a Jivamukti Teacher. Thank you so much to my Teacher Shri Shailendra. His presence in my life is priceless
"With enough power of concentration on sequences, breathing thru the posture and practicing regularly will bring you to that yoga statement of The Moment where you feel absolutely in harmony. That is what you bring to your daily life and my target is to give you that platform for you to achieve that state of body and mind."