April 15, 2017 Functional Core Workshop with Kris Rai and Pavlina Haralambous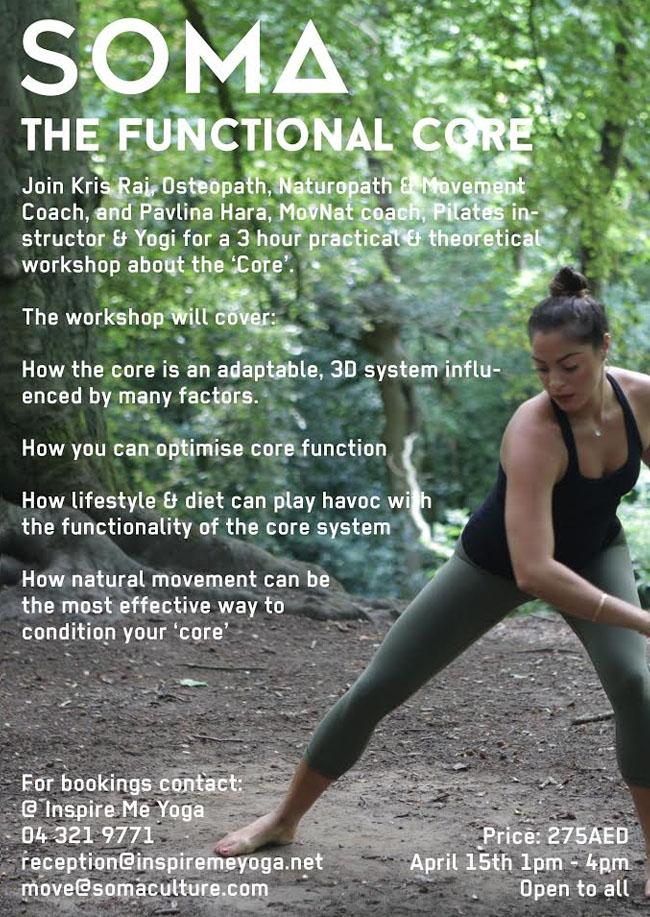 Functional Core Workshop with Kris Rai and Pavlina Haralambous
The workshop will cover:

- How the core is an adaptable, 3D system influenced by many factors.
- Functional anatomy and it's relationship to movement
- How you can optimise core function
- Why the usual exercises don't work
- How lifestyle & diet can play havoc with the functionality of the core system
- How natural movement can be the most effective way to condition your 'core'

About Kris & Pav

Wellness & movement advocates Kris Rai & Pavlina Hara have recently founded their new project, SOMA. For 14 years, Kris has been using his work as an Osteopath, Functional Movement Coach and Naturopath to create a powerful triad of osteopathic medicine, natural functional movement, and nutrition & life based wellness. Pavlina, with the experience of overcoming her own health issues, is a pilates teacher, Ashtangi, MovNat practitioner & movement coach. Pav uses her dynamic wealth of natural human movement and conditioning to help those she works with achieve physical well being.

Gaining a stronger understanding of human movement, how the human body actually works and how intimately integrated with the environment and ecosystem humans are, provides a key starting point for building awareness and mindfulness. At the heart of SOMA is the commitment to inspire social change. Kris & Pav believe that this journey begins with finding your authentic self, truly underdstanding how to achieve wellness, mindfulness & health, and encouraging those in your life to follow your lead to make the same changes.
Book Now